March 16th, 2015
SKINLESS: Reunited New York Death Metal Legion To Release First New Full-Length In Over Eight Years; Artwork + Release Date Revealed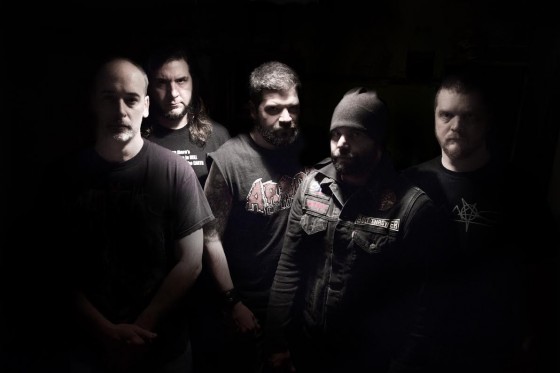 Reunited New York death metal legion, SKINLESS, will defile the ears of the living this June with their first new studio offering in nearly a decade. Titled Only The Ruthless Remain, and featuring their classic late '90s lineup, SKINLESS returns stronger and more vicious than ever before with a prime slab of truly brutal death metal. Recorded by Tom Case at Edie Road Studio and Doomsday Bunker Studio, both in upstate New York, with vocals tracked by Dave Otero (Cephalic Carnage, Primitive Man etc.) at Flatline Audio in Denver, Colorado, and mastered by Brad Boatright (Obituary, Nails, Integrity etc.) at Audiosiege in Portland, Oregon, Only The Ruthless Remain boasts seven tracks ofSKINLESS' signature fusion of punishing, concussively heavy grooves and surgically precise, blasting severity. Only The Ruthless Remain is poised to stand among the most sadistic yet addictive death metal offerings of the year. Comments the band, "Stockpile your beers, gather your minions, it's time to get RUTHLESS."
SKINLESS was forged in 1992 by guitarist Noah Carpenter with one goal: to be the heaviest band in creation. Following a variety of personnel changes and two demos, SKINLESS established a solid, dedicated lineup from 1997-2001 in the form of Carpenter, vocalist Sherwood Webber, bassist Joe Keyser and drummer Bob Beaulac. This version of the band would later become known as the "classic" lineup.
In 1998, SKINLESS released their now legendary Progression Towards Evil debut full-length, which stunned the underground, showcasing the visceral energy the band had become notorious for live. An independent release, Progression Towards Evil received frenzied acclaim from media outlets globally. A union with Relapse Records ensued and three more bludgeoning platters were served from 2001-2006 with Foreshadowing Our Demise, From Sacrifice To Survival, and Trample The Weak, Hurdle The Dead. Despite various lineup shifts, the band remained as brutal and busy as ever, touring the globe with the likes of Slayer, Pantera, Slipknot, Exodus, Morbid Angel, Dying Fetus, Suffocation, Immolation, Misery Index, Deicide, Cannibal Corpse, Entombed and so many others consequently spawning an ever expandinghorde of devout metal enthusiasts.
Following a seven-year slumber, SKINLESS returned to action with their "classic" formation in 2013 and have since added second guitarist, Dave Matthews (notthat Dave Matthews) to the ranks. Only The Ruthless Remain includes artwork by Ken Sarafin and will be unleashed on CD, LP and digitally via Relapse Records on June 2nd, 2015 in North America (June 1st in the UK/EU and May 29 in DE/Benelux/Finland). Official SKINLESS merchandise is currently available via Allinmerch.com and Relapse.com.
In the meantime, the band will wage their audio war upon Baltimore this May as part of this year's Maryland Deathfest as well as Hellfest in France with further live invasions to be announced in the coming weeks.
SKINLESS:
5/21/2015  Maryland Deathfest @ Soundstage – Baltimore, MD
6/21/2015 Hellfest Open Air – Clisson, FR
Guilty Personnel:
Sherwood Webber – Vocals
Noah Carpenter – Guitar
Dave Matthews – Guitar
Joe Keyser – Bass
Bob Beaulac – Drums
"Anyone who is a fan of real, gritty, no-holds-barred death metal or grindcore will loveSKINLESS." – Metal Injection
"SKINLESS excels where so many others have failed. The songwriting is fantastic, the unit is tight beyond belief, and the brutality is delectably cranium crushing. And man, those grooves are deadly." – Blabbermouth
http://www.facebook.com/Skinless
http://www.twitter.com/skinlessband
http://www.skinless.bandcamp.com
http://www.relapse.com
http://www.facebook.com/RelapseRecords