Belphegor
Bondage Goat Zombie (1st Review)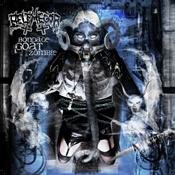 If early christians had witnessed Belphegor they would not have had to demonize pagans, the truth would have been enough. Someone had to try to live up to the biblical descriptions, why not Belphegor. The bible insists all pagan rituals are abominations and claim pagans are not only apostates and blasphemers but fornicators and baby killers too. Harlotry is supposed to be a beloved practice in paganism, each temple having its own whore, but qedeshah, the Hebrew word translated in the bible as temple prostitute, literally means a consecrated woman, a midwife or perhaps a sorceress. Christians put a spin on hedonistic rites because pagans did not worship the one true god. Those temple sorceresses, strange powerful women, put themselves in trances and channeled the eerie voices of the gods and goddesses. Their voices were intended to sound weird and spooky, and their utterances were intentionally vague, bursts of gibberish. The oracles at the shrine of Apollo at Didyma were called the grunters. The nun imagery that Belphegor favors could be a reference to those oracles, holy women in temples.
Once more Helmuth offers vague bursts of gibberish in his godlike grunting and shrieking, and the rest of the band fills in ritual chanting. Vocals are always a high point on a Belphegor disc. There are deep clear vocals on "The Sukkubus Lustrate" and whispers on "Der Rutenmarsch", which harkens back all the way to "Vomit Upon The Priest." The aural assault on christian values continues unabated, with powerful, intricate guitar lines despite the loss of Sigurd and overwhelmingly punishing drumming that at times is as oppressive as helicopter rotor blades whooshing down on you. Once again fast and slow, brutal and seductive, ominous and oppressive compositions are on display, and any true fan of the band has no squirm room for complaints. This is one band that need not evolve, just perfect the style and ramp up the skill level. "Chronicles of Crime" is the one most different.
I oscillate between wanting to severely punish the monotheists for 2000 years of intolerance and persecution and living up to the pagan values of individual freedom to worship how you wish and whom you wish. When I wish to get worked up in a rage because I am in the former mindset I listen to Belphegor and embrace the christian mindset of do unto others as they have done unto you, eradicate them all, lead the lambs to the slaughter, sacrifice them all to the pagan gods, Belphegor leads the way. When I am not in that midset I listen to Belphegor anyway, shred for satan.
[
Visit the band's website
]
---
Comments